ABOUT OUR MUSIC LESSON PROGRAM

FAMILY MUSIC ACADEMY - Come see why so many choose to learn music-making with us!

Our family has grown into the largest private music teaching institution in the state. We have more than 50 professional teachers and nearly 1200 enrolled students. As of August 2004, we have given 340,000 lessons. Our "Music Is The Difference" program has been presented to over 4000 teachers and students. These inspiring music performances have taken the message of music to our schools. The key to our growth and success has been assembling highly experienced teaching professionals. We select those who have a love and enthusiasm for teaching to join our family. All our instructors have music degrees, a dependable, verified background and great musicianship. Every member of our team has a commitment to creating a fun, friendly and patient approach to teaching.

We have 3 store locations!

Family Music Centers West
8125 W. Sahara Ave., Las Vegas, NV 89117

PH: 702-360-4080 FAX: 702-360-4065

Hours: Mon.-Fri.10AM-8PM
Sat. 9AM-6PM Sun. Closed
_________________________

Family Music Centers East
2714 N. Green Valley Pkwy., Henderson, NV 89014

PH: 702-435-4080 FAX: 702-435-2266

Hours: Mon.-Fri. 10AM-8PM
Sat. 9AM-6PM Sun. Closed
__________________________

Family Music Centers North
1915 W. Craig Rd., Las Vegas, NV 89032

PH: 702-641-4080

Hours: Mon.-Thu. 11AM-8PM
Fri. 11AM-7PM Sat. 9AM-6PM Sun. Closed




CLICK

HERE

TO PROVIDE US YOUR INFORMATION AND LESSON PREFERENCES
Our Family Of Music Professionals
Serving the musical needs of southern Nevada since 1995, Family Music Centers has sought to promote the art of making music and to provide an environment where the young and young at heart can be inspired to develop their talents. From the moment you enter our doors, we want you to be intrigued and excited by the wonderful array of pianos, band and orchestral instruments, books and sheet music. Our experienced and friendly staff, along with our teachers, all share one common goal...meeting your every musical need!

Our Goals & Yours
Our education department strives to provide the most musically enriching instructions for a variety of instruments and musical styles. We focus on the individual progress of each student, whether in private lessons or a group setting. Our teachers build what we feel is essential - a comfortable and trusting relationship with each student.

Only Family Music Centers offers a state-of-the-art
learning environment that includes:
Well-equipped private, sound-insulated studios
Latest generation, interactive digital pianos
CD live recording/burning available
Flexibility, Convenience And Always...Value!

A commitment to schedules for families and adults with busy lifestyles
Convenient lesson hours available weekday mornings to afternoons, after school until 8 pm, and weekends
Multiple teachers for most instruments, which means your choice for a lesson time is usually available
Always a Family discount for two or more family members
Autopay option for easy lesson payment each month

Our Family Offers You Even More!
Special program for Home Schoolers
Free lessons for referring a friend
Student discounts on books & instruments
MUSIC LESSON GIFT CERTIFICATES - a great gift idea that can be redeemed for lessons for up to one year from the date of purchase.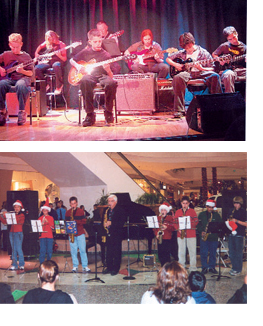 Bringing Musicians Together
All of our students have a chance to shine for family and friends with recital opportunities throughout the year. Most notable are the annual holiday performances and Music In May, where hundreds of students share their accomplishments.

Several student ensembles, including the Family Music Centers String Ensemble and the Get With the Band Program were created to give our students the chance to play with other aspiring young musicians.

Measuring Our Successes
Many of our young students have been selected for such musical honors as All State Honor Band, All State Jazz Band, as well as winning scholarships to prestigious summer music festivals. Several have gone on to earn music scholarships to college, and some have become accomplished music educators themselves.






SIGN UP NOW !!



CLICK

HERE

TO PROVIDE US YOUR INFORMATION AND LESSON PREFERENCES